What makes a restaurant website design great? And how can you apply some of those same tactics to your own website? You don't need to hire an expert to have a simple and effective website that will help you attract more customers, sell more food, and increase your bottom line. Simple restaurant website design isn't about making things look complicated or fancy; it's about making things simple, so people know what they want and how to order it as fast as possible.
Ditch Flash
It's time to ditch the flash and design your new website with HTML5. It's the best way for restaurant websites to stay relevant in today's world. With HTML5, you can create mobile-friendly designs that are fast and reliable—perfect for a site that relies heavily on internet access from mobile devices. 
Plus, HTML5 is much easier for developers because no plugins or programs are needed. Developers don't have to worry about using different platforms either. There is also less risk of security breaches, making it the safer option overall. Flash might be great at some things, but when it comes to building your new website it just doesn't make sense anymore.
Focus On The Menu Section
The menu section of your restaurant website should be simple and easy for customers to navigate. The site should include your regular menu, as well as any specials that you are currently offering. If you offer catering or takeout, you should list those options here too. And don't forget about the kid's menu! It's an important part of running a successful family-friendly restaurant. 
A Few Tips To Keep Your Customers Focused On Ordering
Use images of your food. 

Emphasise the speed of delivery and availability with "We're Open Now" banners.

Communicate your special offers clearly, like Enjoy $5 Delivery 

Keep the entire site simple and easy to navigate with limited colors and high contrasts.

Use bold headings to help visitors get their bearings right away. 

Make sure your menu is listed in an easily readable format and available for download and email so customers can refer to it anytime. 

Tailor your copy writing specifically to focus on what your customers want most: delicious food delivered fast that is affordable enough that they can enjoy it often. You should make sure you're also offering regular specials, so customers know you are thinking about them. Lastly, make ordering easier by offering multiple payment options and clear shipping costs. With these tips in mind, you can provide excellent customer service without over complicating things!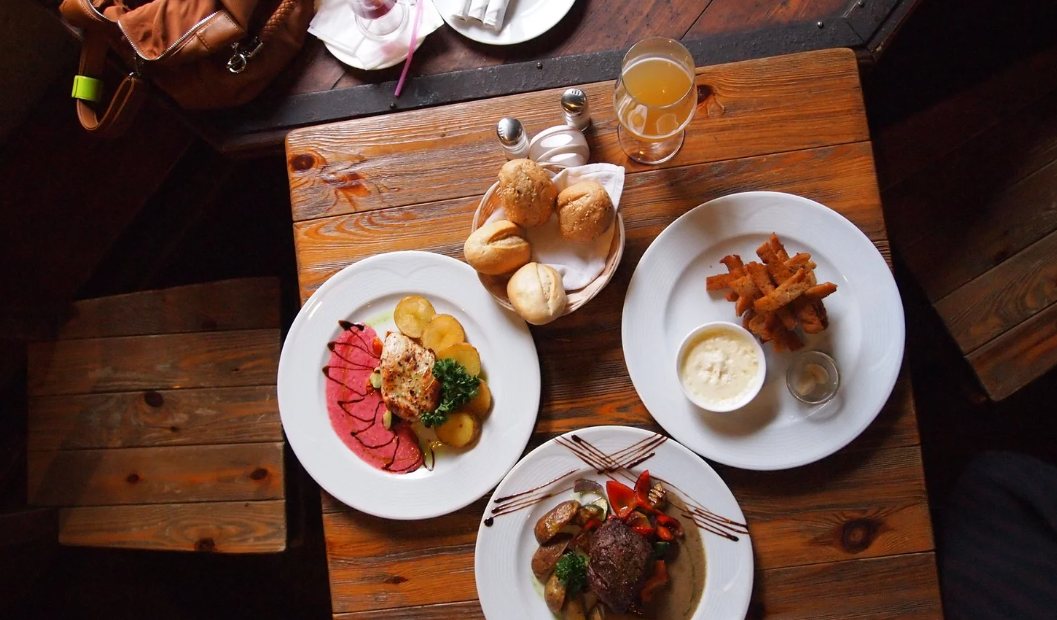 Minimise Social Media Channels
The best restaurants are those that let customers order quickly and without distraction. Get rid of distractions by minimizing social media channels, removing clutter, and providing all the necessary information aesthetically pleasing. Many restaurant owners invest more money in advertising than in making their websites user-friendly and easy to navigate. Make sure you don't make this mistake!
Testimonials Are Key
The testimonials are key for any website, but especially for restaurants, because they help build credibility. If you're short on time or resources, consider asking customers to leave reviews in exchange for a free meal or something else of value. 
Testimonials from other businesses or people with experience with your restaurant can also be helpful. You can put their contact information and the date directly below each review so readers know where it came from and the publication date. Giving clients an incentive will increase their response rate, which is why marketers and business owners often use this tactic. And don't forget to share these reviews on social media channels like Facebook and Twitter!
Be Clear, Concise, And Consistent
When designing your website, it's important to be as clear, concise, and consistent as possible. Focus on the most important elements of your business, like menu items, hours of operation, and contact information. Make sure that all these elements are visible and easy for visitors to find. It is also advisable not to use too many colors or fonts in the design. Simplicity is key when designing your website so customers can easily navigate it.